About Amy N. Jones
Maine Licensed Site Evaluator and Certified Soil Scientist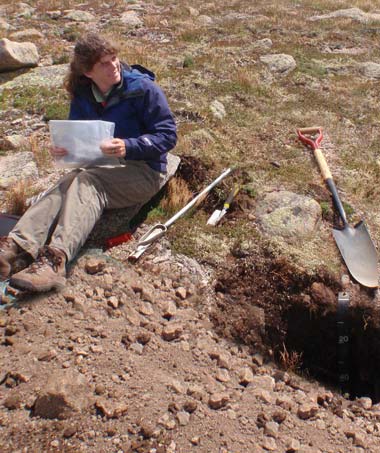 Me conducting a soil evaluation
I am a well-organized, resourceful professional who is committed to providing you with individualized, high quality, dependable service. My years of experience, knowledge of soils and state rules and regulations, in concert with meticulous attention paid to individual site conditions and most importantly, to individual client needs, allows me to produce a clear, precise, understandable septic system design or soil map in a timely manner.
As a member of the Maine Association of Site Evaluators (MASE), the Maine Association of Professional Soil Scientists (MAPSS), and the Maine Association of Wetland Scientists (MAWS), I stay current with the standards of practice, legislative decisions, and changing technology that affect my work.
I truly enjoy my work and have always loved to "play in the dirt". I graduated from the University of Maine with a focus in Soil Science. I worked for a number years for the Natural Resource Conservation service doing soil survey work in central and Downeast Maine. In 2008, I was certified by the State of Maine as a Soil Scientist (license #SS499). I apprenticed in the Penobscot, Waldo, and Hancock County areas before taking and passing both a written and field exam to receive my Site Evaluator license (#SE383) in 2006.